Mauritshuis Reunites Bridal Couple
Twenty years ago, the museum curators discovered that a pendant portrait originally belongs with Elisabeth's portrait, depicting her fiancé: Jakob Omphalius. Would it ever be seen again? To the museum's delight it recently turned up at Galerie De Jonckheere.
By Ariane van Suchtelen, Curator, Museum Mauritshuis, The Hague (NL)
The Mauritshuis in The Hague is known worldwide for its unique collection of paintings by Dutch and Flemish masters from the time of Rembrandt and Vermeer. However, the museum also houses a small but exquisite collection of early Flemish and German paintings, including the lovely portrait of a young woman by Bartholomäus Bruyn the Elder of Cologne. This portrait has been hanging in the Mauritshuis since 1951, on long-term loan from the Rijksmuseum. Twenty years ago, we discovered that a pendant portrait originally belongs with Elisabeth's portrait, depicting her fiancé: Jakob Omphalius. But there was only an old photograph of Jakob's portrait. Would it ever be seen again? To our delight it recently turned up at Galerie De Jonckheere. The Mauritshuis seized this unique opportunity and bought it.

Now that the portraits are together again for the first time in more than a century, it is obvious how well they fit together, particularly in the use of bright colour: the azure background, the red velvet sleeves and the fine gold embroidery on the clothes. Jakob and Elisabeth turn towards one another, seated behind a stone balustrade that runs through the two portraits. Their hands are shown more or less in mirror image – Jakob holds a folded paper in his right hand, while Elisabeth offers him a sprig of bittersweet as a token of her love.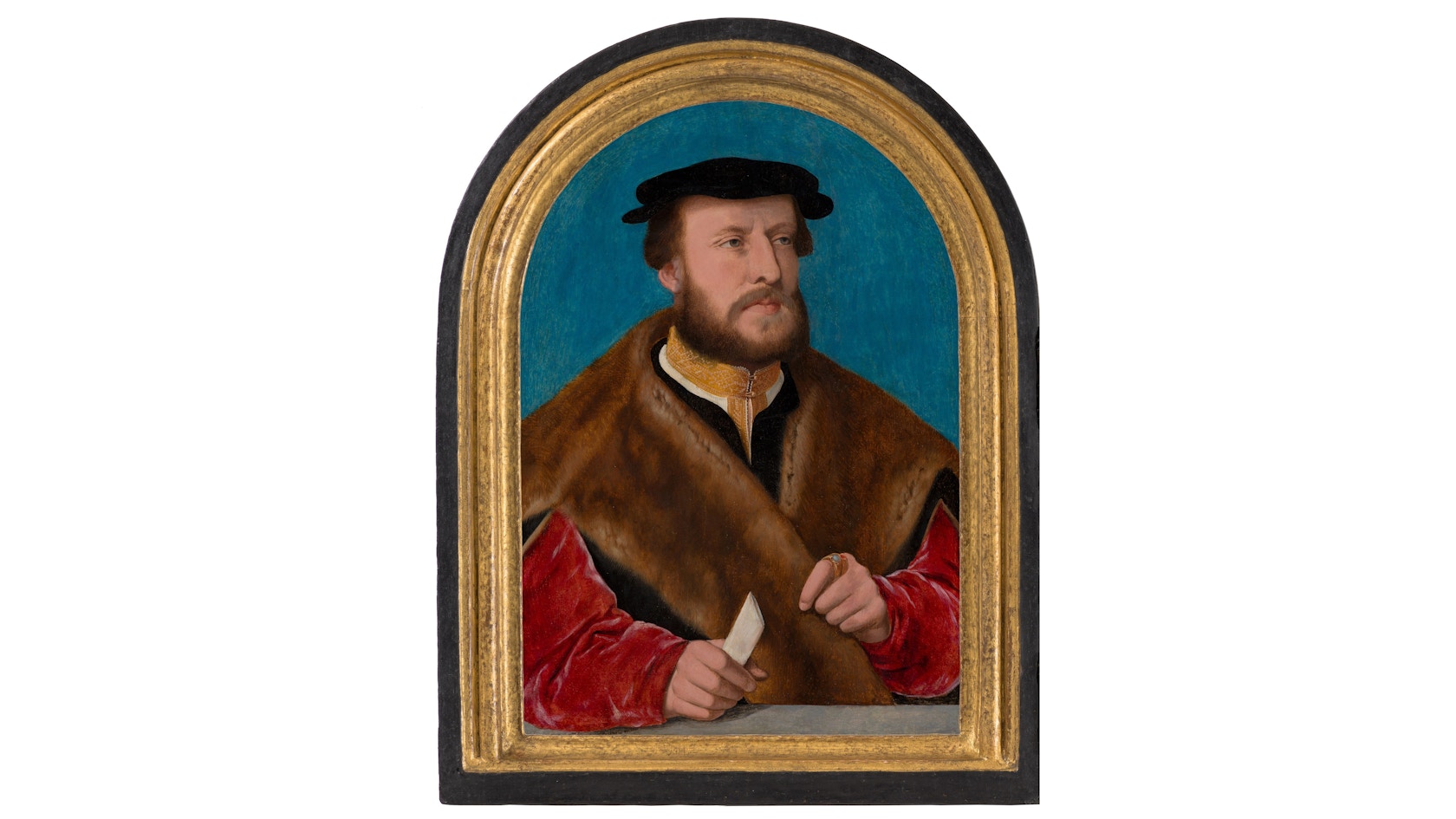 Detective Work

Twenty years ago, we examined Bartholomäus Bruyn's portrait of a young woman when we were working on the catalogue raisonné 'Portraits in the Mauritshuis' (which was published in 2004). During the research, it emerged that the portrait had had a pendant, which had been with it until 1896 – they were originally a hinged diptych. In that year the portraits were sold at auction in London to two different buyers – no one knew then who the man and woman were. There was also no real idea of the identity of the painter (the portraits were attributed to Jan Gossaert). They parted company at that sale. The portrait of the woman was bought by a Parisian art dealer, who sold it a year later to the Dutch collector Cornelis Hoogendijk – his heirs gifted the painting to the Rijksmuseum in 1912. The portrait of the man went to an Englishman, Ralph Brocklebank, who hung it in his country house. After his death it was auctioned in London again in 1922. By then it had been identified as a work by Bruyn, but no one knew that it belonged with his portrait of a young woman in the Rijksmuseum. In 1955 the pendant portrait put in another appearance, but there had been no trace of it since then.

During our research for 'Portraits in the Mauritshuis' an old photograph of the portrait of the man was found in the Netherlands Institute for Art History (RKD). There was also an annotated catalogue of the 1896 sale. In that copy of the catalogue the art historian Cornelis Hofstede de Groot had made sketches of the family arms he had seen on the back of the panels during the viewing days in London. These proved valuable clues. The family arms on the back of the portrait of the woman were identified in the 1920s as those of Peter Bellinghausen, chancellor and professor of civil law in Cologne and father of four daughters. But which daughter was it? We found the answer to this question from the sketch that Hofstede de Groot made of the man's family arms, including notes of the colours. They proved to be the arms of the Cologne lawyer Jakob Omphalius, who had married Elisabeth Bellinghausen. Both sitters were identified!

The results of the research were published in our 2004 portraits catalogue, but the whereabouts of the 'Portrait of Jakob Omphalius' remained unknown. The 19 February 2005 edition of the Dutch newspaper Trouw reported the discovery of the bridegroom of 'the lovely bride', which had been hanging 'rather lost' in the museum. The headline 'Mauritshuis reunites bride and groom' was prophetic. But it would be fifteen years before the dreamed-of reunion became a reality.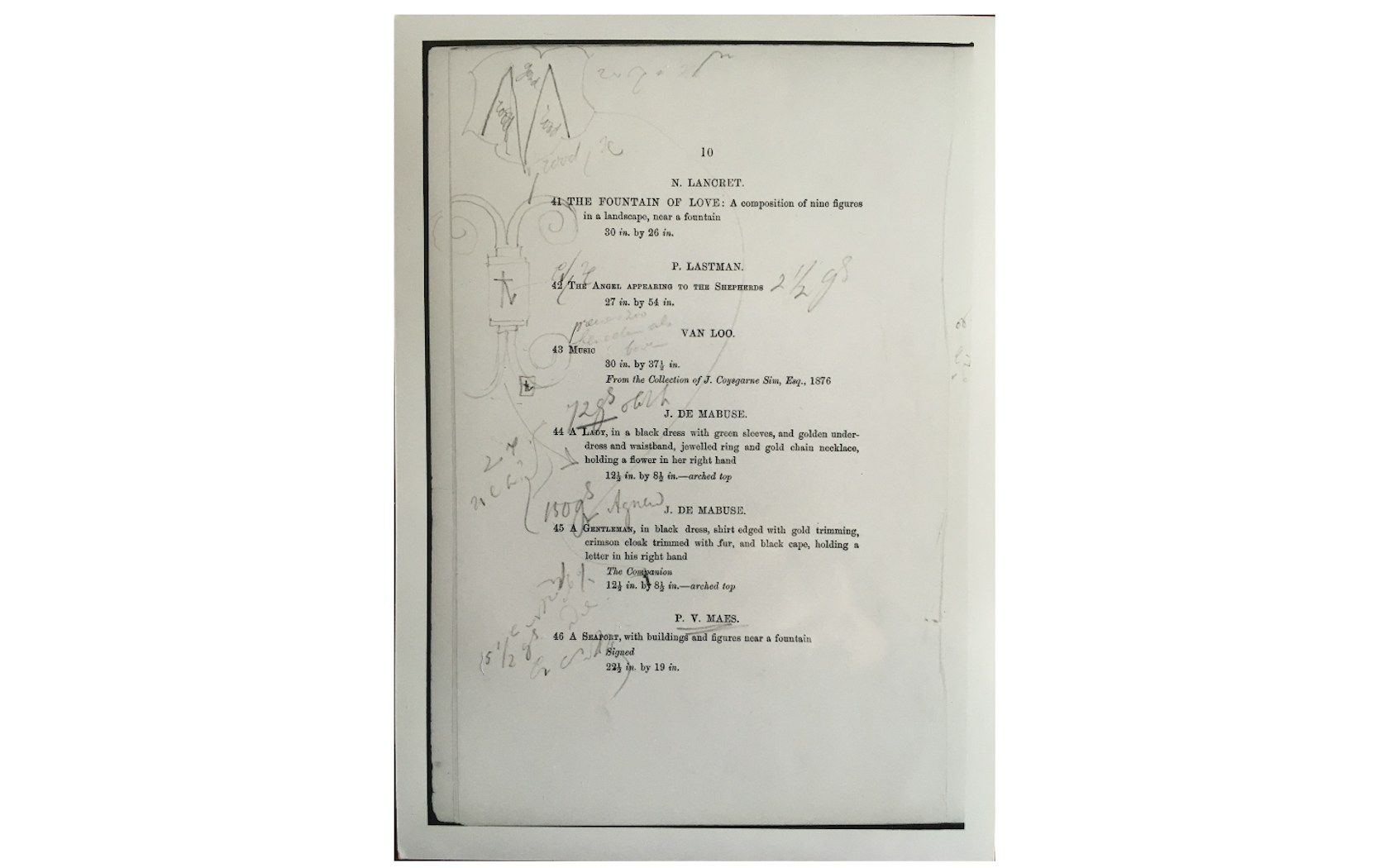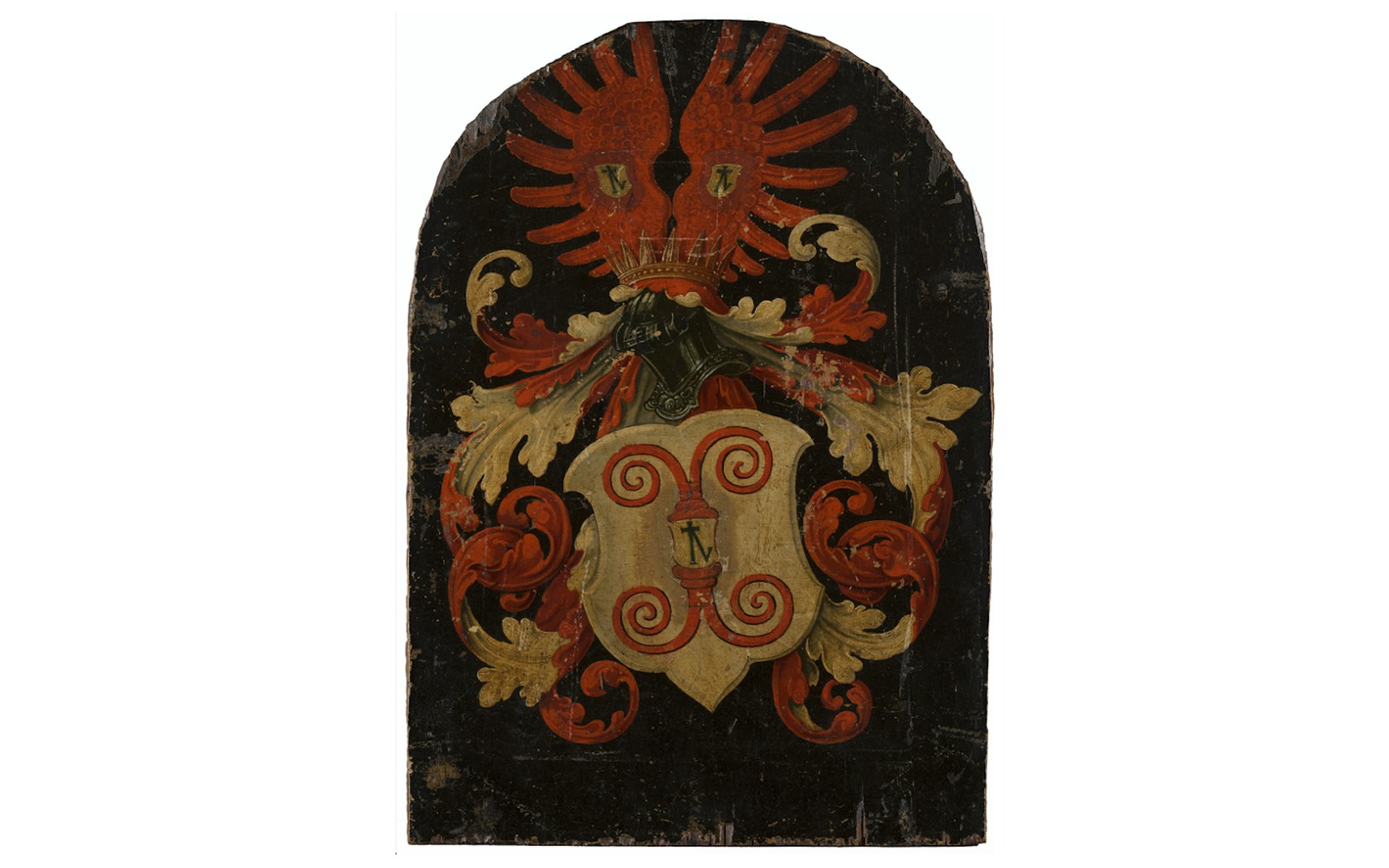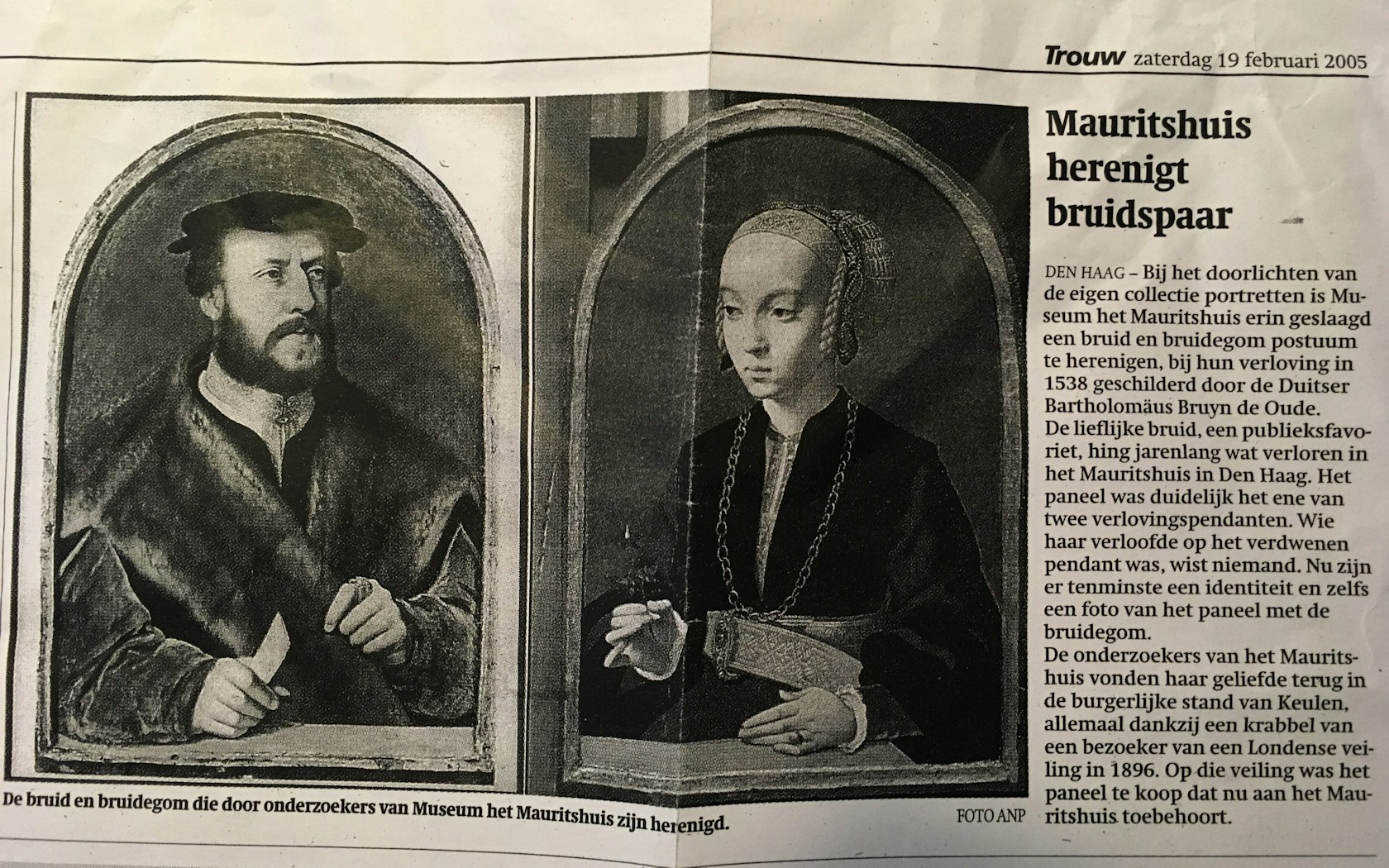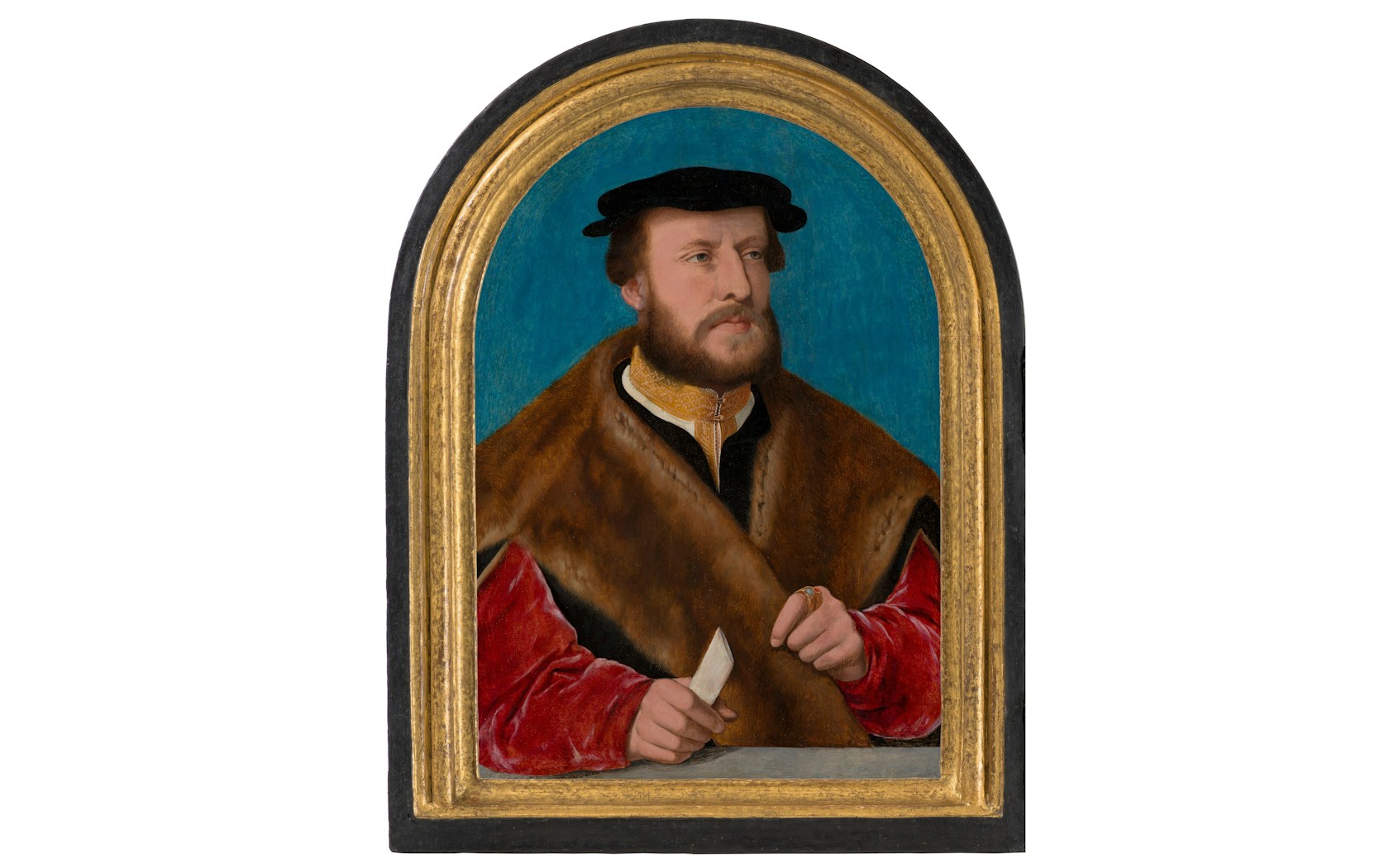 An Engaged Couple

How do we know that they are engagement portraits, not marriage portraits? This can be deduced from Elisabeth's dress. She is portrayed in contemporary Cologne clothes and on her head she has a 'Stickelchen', a gold thread cap embroidered with pearls, around which her hair is shaved. The looped plaits on either side of her face tell us she is still unmarried. The sprig of bittersweet (Solanum dulcamara) in her hand signifies the same thing. This flower is a symbol of betrothal in several portraits of young people made in Cologne in the same period. Bartholomäus Bruyn must have painted the couple before their wedding on 8 February 1539.
It would prove to be a particularly fruitful marriage, in which Elisabeth gave birth to more than ten children. We do not know when Elisabeth was born or when she died – in her portrait she appears to be quite a bit younger than her fiancé. We know more about the life and work of Jakob Omphalius. He was born in Andernach in 1500, studied in Cologne, Utrecht and Louvain and around 1525 went to France, where he obtained a law degree, first in Paris and then in Toulouse. Back in Germany, he had a glittering career in politics, holding positions that included chancellor to the Archbishop-Elector of Cologne, Hermann von Wied, who had earlier presided over his marriage to Elisabeth. Later Omphalius entered the service of William III, Duke of Jülich-Cleves-Berg. In 1559 he was ennobled by Emperor Ferdinand I. After a fall from his horse in 1562, Jakob Omphalius withdrew from public life and retired at his estate in Wiesdorf, where he died in 1567.

Success as a Portrait Painter in Cologne

Bartholomäus Bruyn (1493-1555), termed 'the Elder' because he had a son of the same name who was also a painter, was particularly successful as a portrait painter – he immortalized an entire generation of Cologne notables. These portraits, without exception, are unsigned, but can be attributed to him through stylistic comparison. The reconstruction of his oeuvre is based on a number of altarpieces with donor portraits, which documentary evidence confirms were painted by Bruyn. His portraits have realistic faces and hands, bright colours and meticulously rendered costumes and accessories, like the soft fur of Jakob's coat and the gold embroidery on Elisabeth's wide belt. Bruyn received few commissions for stand-alone portraits – his output consisted mainly of engagement and wedding portraits in the form of diptychs.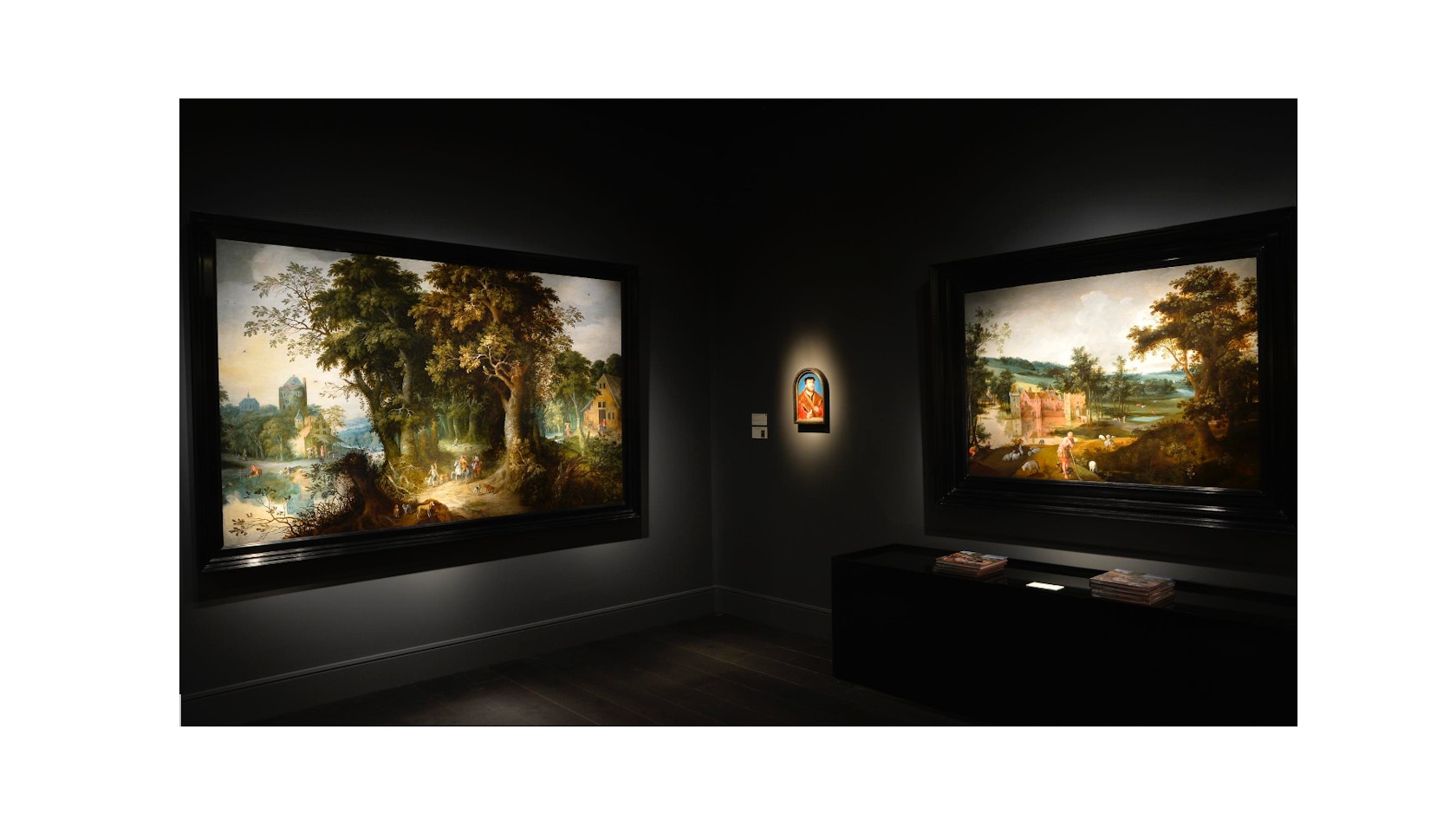 All's Well That Ends Well

This spring, in consultation with the Rijksmuseum, which gave us the 'Portrait of Elisabeth Bellinghausen' on long-term loan, the Mauritshuis bought the accompanying 'Portrait of Jakob Omphalius' from Galerie De Jonckheere in Geneva. Now the two pendants by Bruyn belong to the National Collection. The unity intended by artist and clients is restored. Twenty years after we got on the trail of the 'Portrait of Jakob Omphalius', all's well that ends well: the young couple have been reunited.





Provenance Research

As usual with potential acquisitions, the Mauritshuis carried out in-depth research into the provenance of this portrait of a man. Among other things, it revealed that the painting came into the possession of Maximilian von Goldschmidt-Rothschild of Frankfurt before 1926. In 1938 this German-Jewish collector was forced to sell his art collection to the city of Frankfurt. After the war most of the works – including the portrait by Bruyn – were returned to his heirs. They sold it in Paris in 1955 and it was only last year that it resurfaced there. (See further about the provenance, www.mauritshuis.nl/herkomstonderzoek)


[This article was published in 'Mauritshuis in focus', no. 2, 2020, pp. 9-14 and is translated by Lynne Richards]